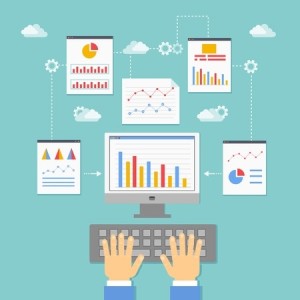 The Shift to Online Marketing Channels
As the world becomes more digital, marketing budgets are moved from traditional channels to online channels. Websites now require more sophistication, more features, more capabilities, and of course, more investment. Fortunately, the online world offers a detailed level of tracking and measurement that helps us better understand the return on our digital investments.
Instead of simply speculating on what works and doesn't work when it comes to our website design and marketing campaigns, we can now let data be the judge. Below are 4 data-driven ideas that can help you better understand how well your website is working for you and where you can find areas of opportunity.
1. What's the single most important thing you want site visitors to do?
What's the one big thing you want people to do on your site? This is called a conversion. It must take the form of a physical action - something they click, something they see, some action they must take. This could be: number of calls coming from your website, how many people click the "Get Directions To Our Store" link, how many people submit a lead generation form, or how many people download an application. Take a moment and think about what this is for your site.
If you know nothing else, know how many people are taking this one, super important, action. Once you have a grasp on how effective your site is at getting conversions, you can begin to optimize.
[Check out the post Evolve Your Website With Conversion Optimization to learn more about conversion optimization.]
2. If visitors don't complete right-away, give them reasons to convert later on.
90%...95%...98% of your visitors will not do that one big thing you want them to do! But just because the vast majority of visitors doesn't accomplish your site's main objective it doesn't mean we should cast them aside and label them failures. Provide the other 95% with a reason to click and set micro goals to measure the forward motion of capturing future prospects. Some micro goals (small steps) you should pay attention to include:
1) whitepaper downloads - people who download your white paper will get to exposed to your expertise
2) coupon downloads - this implies they are serious about buying in the future
3) newsletter signups - opt-in email acquisition!
4) promotional video views - those who view your video will be exposed to your carefully crafted marketing message
Your site may have different micro goals. Identify what they are and start tracking them.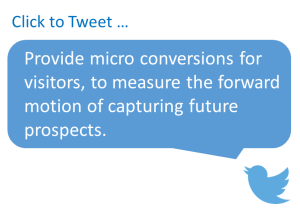 3. Top landing pages should match with what visitors want and expect.
Picture your house. Now picture all the different ways to enter your house. You have a front door, a backdoor, maybe a garage door, side door, sliding door from the deck, etc. Because it's the most visible, the front door usually get the most attention. It has the nice landscaping, the flowers, and the holiday decorations. We treat our site's homepage like we treat our front door. We assume it's always the first page visitors see when coming to our site, but every page on your site is a potential front door.
Ask for your site's top landing page report. Look at the different pages that represent your site's "front door." Now consider the first impression these pages make for a new visitor. Is it like walking up to your beautiful front door or is it like stepping over the pile of sneakers leading to your garage door?
4. Diversifying your web traffic sources.
A good website will have a balanced portfolio of traffic. This means there are several different ways people find your website. Some of the most common ways someone enters your website is through a search engine, through an online advertising campaign, from a link on another website or by typing your web address directly into their browser. If you haven't done much online marketing, most of your website traffic comes to your site the same way (and acts similarly). The more sophisticated your online marketing, the more diversified and balanced your traffic source portfolio. A website with sophisticated online marketing should not have one channel represent more than about 50% of your total traffic. A site without a diverse online marketing strategy will probably see a single channel represent upwards of 70% of total traffic.
Optimizing your user experience for only one type of visitor doesn't position you well if you plan to grow your marketing strategy and attract more new visitors over time. So before you start taking action on your site, consider your traffic now compared to where you want it to be.
[Learn more about how to start tracking visitor sources and behavior on your site with Web Analytics – Breaking a Tradition of Uncertainty]
In summary ...
We don't need to speculate on the effectiveness of our website investments. Use web analytics to uncover when your site succeeds and when it falls short. Don't expect every visitor to turn into an immediate customer. Instead, measure and optimize for every step of the buying process.
To learn more about how to optimize your website to meet your business goals, contact WebStrategies, Inc. online or by phone at 804-200-4545.