If you are a salesperson, especially if you are working a specific vertical, conference networking is a skill that has the potential to provide a ton of value. For credit unions for example, conferences are in full swing with MAC last month and CUNA this month, and building relationships within these groups are crucial for future success.
DO You
When it comes to networking and meeting new people, it is often easy to rely on false positives to get through uncomfortable moments. Especially if you are nervous and large crowds are overwhelming. BE YOURSELF. The most important trait that you can bring to anything in life, business or personal, is yourself.
Generally, people can see right through insincerity and you could miss out on a valuable relationship just because you are nervous. Guess what? Everyone is a tad uncomfortable at these things. Just be yourself and have a good time.
DON'T SWARM A SPEAKER
The keynote has ended and you are so inspired, you can't wait to rush out and talk to them! Don't. Just don't do it.
Having made this mistake myself, it is a complete waste of time. The speaker won't remember you or the 50 people in line behind you either. If you want to connect with the speaker, send an email after the conference. Refer back to the speech and how it made an impact on you and use examples. There will be a response back.
A lasting impact is more valuable than a fleeting one. Even for a professional speaker.
DON'T TOOT YOUR OWN HORN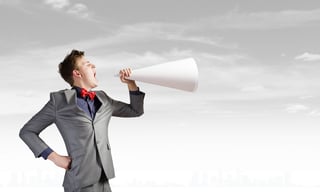 Let's face it. A conference is a place to share information and ideas with everyone within the industry. Every single person in attendance has had a lot of wins and they have had some failures as well. Having a "look at me, I am so great" attitude is a major turnoff and it won't be easy to build relationships. Trust me.
Recently Marc Mentry, CMO of Capital One, spoke at an AMA-Richmond luncheon. His talk was fabulous because he was so real. He told many stories of successful campaigns, as well as failures. Everyone loved him. Why? Because he was just a guy who does marketing for a company. He wasn't the CMO of Capital One. There is a big difference.
DO LOOK FOR OPPORTUNITIES
Conferences are full of opportunities. Not only for new business and relationships, but for company visibility as well. Make yourself known and get involved. Look for speaking opportunities within the conference.
Most conferences have break out classes and sessions and they always need speakers. This is a great opportunity for you to share your knowledge and insights as well as a little about your company.
Conferences are full of fun, energetic people and have a ton of potential for your business. Set your intentions before the event, take notes to reference back to and have a good time.
Don't attend a conference just to get new business. It is all about the relationships that you establish first in order to generate new business.
---
Want to learn more about sales and marketing strategies?