2020 has thrown a wrench into the marketing plans for manufacturers around the country. An industry that heavily relies on trade shows and trade associations to network with other businesses and market their products has been disrupted due to limitations on travel and in-person events.
Although there is still uncertainty surrounding trade shows for this fall, we expect them to return in some capacity in the future. And there are several ways that you can use digital marketing tactics to make those long-anticipated visits even more fruitful.

How digital marketing can support trade shows when they return
The amount of preparation and financial investment that goes into trade show visits is significant, and warrants planning to ensure that your time and money investment pays off several times over. Manufacturers put a significant amount of time, money, and thought into how they present themselves at these events. Digital marketing is an excellent way to get more value out of that time and effort.
Before the trade show
The time spent leading up to a trade show is an opportunity for you to build awareness that your company will be there and encourage visitors to come by your booth. One effective way to accomplish this is through digital advertising.
Digital advertising offers a wide array of options, but LinkedIn will allow you to target the exact audience that you want to get these promotions in front of.
With LinkedIn advertising, you can upload a list of companies or individual emails of people that you expect to be at a trade show and set your advertising campaign to target only those lists. If there are specific job titles that you would like to focus on within those companies, you can identify them as well to make your targeting more precise.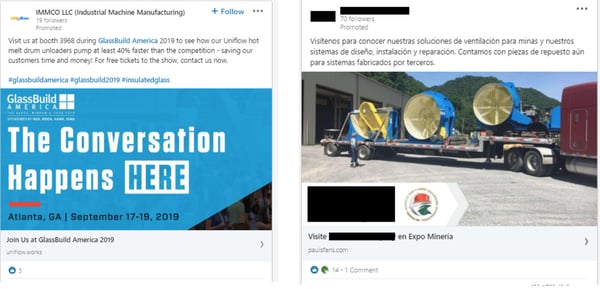 This is an excellent chance to communicate information about the trade show that you will be attending and your booth number to drive more interactions during the trade show.
Other digital advertising channels like Google Display and Facebook can also be valuable in the time spent leading up to a trade show, provided you are able to adequately target your messaging to the right audience.
For example, you can leverage Facebook's advanced demographic and geographic targeting to show advertisements to people that you have identified would be interested in them. With Google Display, you can utilize remarketing lists to show advertisements across the web to anyone who has viewed the trade show's website and your own website.
Utilizing a combination of these tactics will help build awareness around your business among those who may be attending the trade show and result in more visitors to your booth.
After the trade show
Once you have completed a trade show, and there are several new prospects for you to follow-up with, digital marketing can make that process as efficient as possible.
A great tactic to accomplish this is marketing automation.
With tools like HubSpot, Marketo, Marketing Cloud from SalesForce, or ActiveCampaign, you can enter new contacts from trade shows into workflows that will send them pre-drafted but personalized emails over a set period of time. This is a great opportunity to address the experience that you had with them at the trade show, then begin promoting your products, case studies, and other valuable content.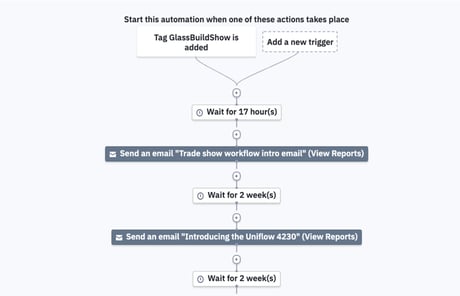 You can also design steps within these workflows to alert sales team members that someone has interacted with the emails so that they can cater their follow-up with them accordingly.
Marketing automation is extremely customizable and the opportunities that it can provide to help you nurture leads following a trade show are vast. If you'd like to learn more about marketing automation, here are 6 Benefits of Marketing Automation for Manufacturers.
Following the trade show is also a great chance to leverage remarketing lists in your advertising campaigns, similar to what you did before the trade show.
This is a great chance to target people who have visited your website, or the trade shows website, and promote some of your most informative, helpful content that will connect with people who may have potentially seen you at the trade show.
What if trade shows aren't as strong as before?
If trade shows return sometime soon, but they are still strongly impacted by health concerns, then we suggest that you still use some of the tactics already mentioned to get the most value out of the ones you do attend.
However, several areas within digital marketing can help pick up some of the slack that you may have lost from trade shows, if they don't return anytime soon or return only in a limited capacity.
From a digital marketing standpoint, advertising is the best avenue to generate quick wins and begin to bring in new leads and sales quickly for manufacturers. Google search is great for capturing potential customers that are searching for the products that you manufacture, whereas LinkedIn is best suited for promoting informative content and driving engagement with your brand.
As far as more long-term tactics, content marketing and SEO can impact the number of visitors to your website and how much they engage with your business tremendously over time.
We recommend that you build out pages on your website to include all of your products, parts, the industries that you serve, and the locations that you serve. This type of content will help you rank for more keywords in search engines and improve your visibility among your target audience.
Also, writing additional problem-solving content that answers questions your potential customers may have or educates them on proper maintenance, new trends, etc. will help you build trust among your audience.
Over time, a healthy combination of content marketing, SEO, and advertising can help replace much of the value that you could potentially lose from impacted trade shows in the future.
The future of trade shows
Although the future of trade shows is uncertain, digital marketing is an excellent addition to your trade show plans, whether they happen at full capacity or with alterations.
Whether you use digital advertising platforms like LinkedIn, Facebook, or Google to build awareness leading up to an event, or marketing automation to follow-up with leads afterward, there is a digital marketing tactic that you can use for every stage of the process.
If trade shows don't return in the near future, or if they are hampered by strong limitations, digital marketing can also be a great long-term strategy to help generate some of the new leads and sales that you may lose.
If you're interested in taking a deeper dive into the tactics that you can use to mold your manufacturing company's digital marketing strategy, check out our Manufacturing Marketing Resources Page.