Of the various methods of digital marketing for manufacturers, the single most effective tool we've observed is content marketing - which is putting content on your website that your potential audience finds when searching the internet. (Also commonly called "inbound marketing".)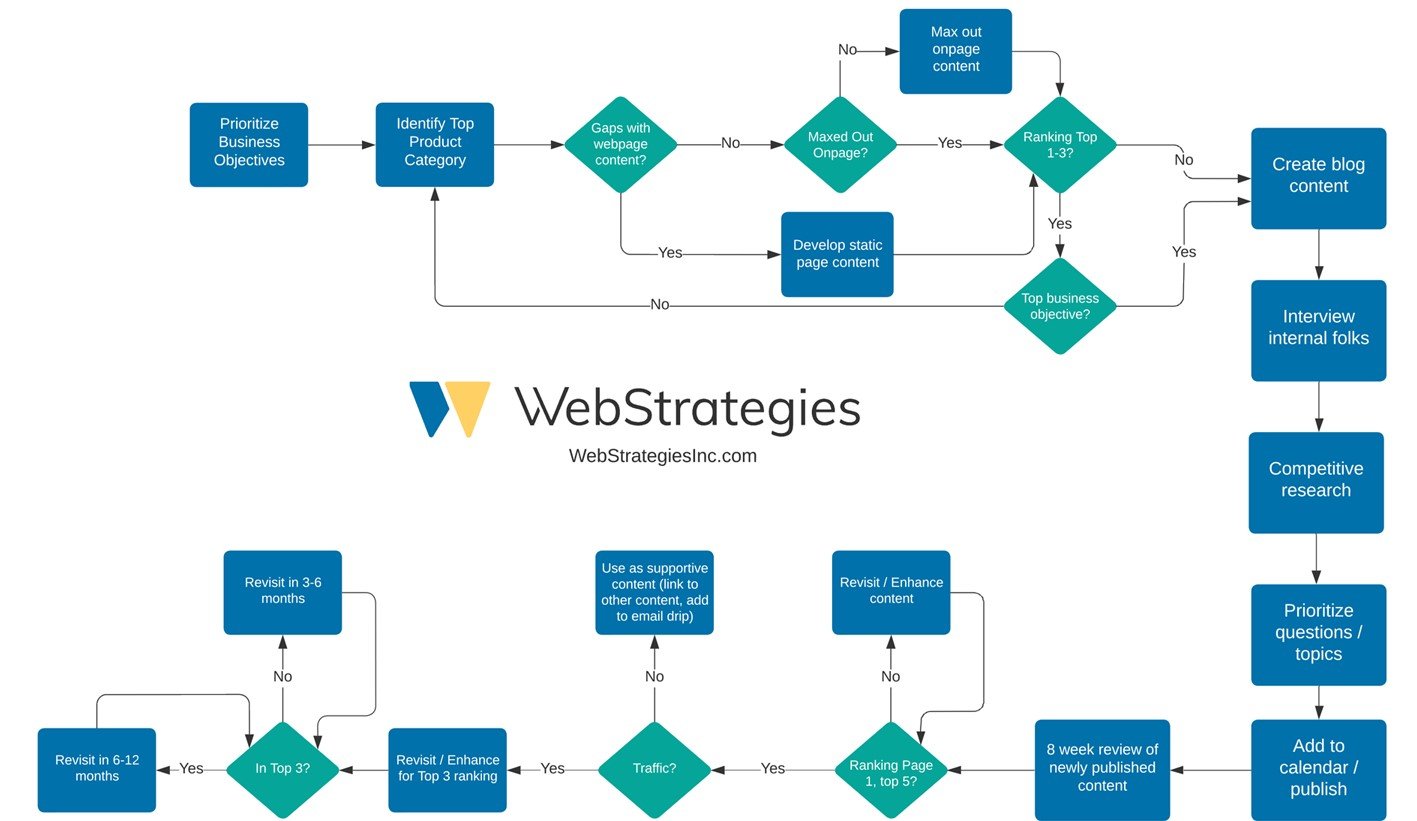 In a recent webinar, WebStrategies CEO, Chris Leone, and Senior Strategy Director, Howard Deskin lay out a detailed plan for Building Your Content Calendar from A-Z with a thorough plan for:
Analyzing your current situation and the gaps you need to address
Researching, writing, and publishing content
Continually measure and improve your work until the goal of ranking in the top three positions for your target keywords is achieved
Inbound Marketing for Manufacturers
By finding out the information customers and prospective customers want most, you can enhance your current product and blog pages with the answers to those questions. If done well, it will also improve your page rank for key search terms, since the search engines are constantly scanning the web for text and metadata that aligns. As content marketing guru, Marcus Sheridan, said in a recent IMPACT blog post: "If you can write an article that ranks high on its own, you'll drive tremendous traffic to your site. That's more and more eyeballs on your homepage, on your offerings, on your thought leadership."
Not every visitor will be a buyer, but attracting and engaging prospective customers increases your leads, and with the right nurturing you will turn many into customers.
Phases of Content Marketing for Manufacturers
PHASE 1 - Analyze and Plan the Content that is Needed

1. Prioritize Business Objectives
Determine the order of products/services that are the biggest revenue drivers and focus on those first; determine your primary content focus based on your leading product category, specific products or services then move on to the next largest category that drives revenue.
2. Evaluate Current Website Content
Find all the content related to the primary product and the web pages. Strive for five web pages (not blog posts and accessible through the main navigation) on your site dedicated to the top five topics.
Grade existing website content on whether it:
A. Is the absolute best you could create
B. Needs improvement
C. Must be created from scratch
3. Plan Content to be Revised and Created
Plan for the first lines of business that need development and max out the content on the product and category pages for the first product category before starting work on the next. Topic clusters are a good way to think about creating content with one pillar topic and several other supporting pieces of content that link back to the main topic.
Develop a content cluster plan that includes pillar pages that are likely your product category page with supporting blog posts or product pages that link back to the pillar page. To create enough content around a pillar page, it should be product category level (or higher such as line of business/industry served). Revise website content pages for the topic you are focusing on to be the best content you can create. For more information on how to build out those pages, check out our March 2022 webinar, How Engineers Use the Web to Find Companies Like Yours where Chris and Howard show several examples of the content structure.
PHASE 2 - Research, Write, and Publish

After the pillar page is created or improved, write blog posts around the topic with links back to pillar page. Do research to find out what your potential audience types into the search engine when looking for products or services like yours. Scope out your competitors' pages and see how they rank on the search engine results page (SERP) so you can structure your content to rank higher.
Before you start writing, know what keywords Some of the third-party tools Chris and Howard mentioned for keyword research:
KeywordsEverywhere (free Chrome extension)
Search "Intitle:Keyword" or "Allintitle:Keyword" to find pages with the keywords you are also targeting to see the content that already exists on your topic.
Ideas for B2B Industrial Blog Posts:
Compare products and models: Talk about which is better in which scenario. Yours won't always be the best option, so be honest or the reader will lose trust.
Price: Explain what goes into the pricing model. We see questions around price to be the largest search category.
Case studies: Tell the story of before and after a customer used your product
Maintenance: Answer the question, "once purchased, how do I maintain this product?"
How to's: Demonstrate, preferably in a video, how to use, install or maintain your product.
How does ___ solve a problem?
Listicle: List the top 10 benefits of using the product.
Event round-up: Write about and post photos of the most recent tradeshow you attended.
PHASE 3 - Measure Results and Continuous Improvement

Track keyword ranking and traffic and constantly improve the content, checking and revising for continuous improvement. Leave the content alone for eight weeks to let the search engines crawl and reorder the rankings. Measure, revisit, and revise pillar and supporting pages until the pillar page ranks 1-3 on the search engine results page for your top valued keywords.
Industrial Marketing Content Plan
Content marketing is an ongoing process that needs regular monitoring and adaptation to improve page rank and traffic. Developing a plan and schedule that you are committed to will pay dividends in the form of increased traffic, improved trust, and more leads.