Many factors can impact a credit union's marketing budget. When something does happen, it's critical to have a ready-to-go plan to address either the increase or decrease quickly. You don't want to see any drop in your traffic, but the right decisions can improve ROI no matter if you have less or more to spend.
The key is to do what it takes to reduce any negative impact on your organization's revenue. How is that possible?
Making the right decision matters. Base your decisions on what's happening right now in the business. Take into consideration past trends that can give you some insight into what's likely to happen moving forward. It's also essential to think about what your desired outcome will be in the future.
Consider all three factors – past, present, and future – for your business model, but also the industry overall.
You will likely see changes in your budget for the rest of 2020. It's a rapidly changing financial world, and that will impact your budget in some way. Yet, with a plan in place, you'll know how to handle any upheaval the rest of the year brings.
What Should You Do If Your Credit Union Marketing Budget Increases?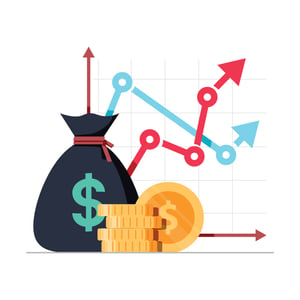 Budget increases may be necessary for some credit unions. Increasing marketing budgets will bring in more potential members, which is critical if revenue starts to fall. Are you worried about how to come up with additional funds to stretch your budget?
Look at what's in place right now. How effective are the marketing strategies you're currently using? What is the ROI on each? Is your current budget too limited in certain areas of your marketing? What area do you see the most traffic and response from, and which areas are sorely lacking in results? If you have not done so recently, now is an exceptional time to break down the ROI for any type of marketing investment.
Your next step, then, is to see where you can best supplement existing marketing strategies to achieve bigger and better results. You'll want to think about both what is working now – giving those areas a boost – and different methods that may be more attractive to new members. Here are a few areas to consider.
Marketing Technology and Automation
The more you can automate, the less you have to pay for your marketing, and the better ROI you can generate. Marketing technology allows you to do more with your existing budget than you could if you were using people alone.
Content Marketing
It's time to get the message out. The marketing plans you had for 2020 six months ago are no longer effective in many cases. Pandemics, social unrest, and a changing economic climate mean you need to get new content developed to reach your audience with a message that resonates with them right now. Content marketing allows you to do that.
Chatbots
Chatbots ensure you are "always there" when a member or potential member needs help. Not only do they help to reduce the cost of customer service representatives, but they can also enhance your marketing by steering website visitors where they need to go to learn about products.
Voice Search
Today's consumer doesn't even want to pick up their phone to search for information. They use voice search on their in-home smart devices, on their phones, and even through their TVs. If you are not marketing using voice search, you could be missing key opportunities to reach your audience.
Digital Marketing
Digital marketing is an overarching type of marketing that includes a range of resources to reach consumers online. Investing a bit more here allows you to tap into a larger geographical area of members or pare down your search to just those who are local to you.
Data Analytics
It's not outside of your reach to use analytics. You have data coming in all of the time, especially if you are using chatbots and automation. That data can tell you what people need and want when they come to your site, allowing you to better tailor messages to meet their needs.
How Should You Allocate Money Between Online And Offline Marketing?
It's not always easy to know how much of your credit union marketing budget – which should generally be in the range of 0.12% of assets – should go to offline or online marketing. Many organizations have moved to a more balanced method since digital marketing is growing in favor.
It's also important to consider where you're going to get your biggest bang for your buck. Digital marketing can reach more people, when done well, than offline marketing in traditional manners. You still need graphics in your financial institution. You still need local print marketing. Yet, you may want to put more of your money into digital to reach a larger audience.
Look at your goals, your audience, and your budget. Where are you going to best find your audience? Create a marketing plan that's directly related to reaching those people. Allot funds to both online and offline methods based on these factors.
What Should You Do If Your Credit Union Marketing Budget Decreases?
No one wants to talk about it, but budget decreases can be concerning. First, consider where you can cut your spending.
Use last year's budget and the breakdown of ROI for each marketing method used. Which ones worked? Cut back on those that did not.
What marketing efforts are not directly linked to your current goals? Consider cutting activities that are not going to contribute to achieving those goals.
Look at your marketing demographics and target members. Are you using marketing methods that don't tie into these demographics?
Are you casting too wide of a net? Consider targeting your audience more precisely through paid advertising, sophisticated SEO strategies, and segmentation in your CRM and marketing automation platform to cut down on wasted marketing dollars.
It's also wise to focus on marketing to your current members when your budget drops. It's less expensive to grow share of wallet with your current members than to market to bring in new members.
Focus your budget to get the most ROI. Adjust your marketing plan to not only get ROI but also to ensure your revenue will not drop. It's not always easy to see this without breaking down figures for each marketing method you're using.
Times are changing, and they do every year. That's why your marketing budget should always have some flexibility in it. Knowing where your money-making strategies are is critical. As your budget grows, look to expand in ways that can enhance your revenue the most.
Read more about How Much Credit Unions Should Budget for Marketing