Credit Unions were founded around the principle of neighbors helping neighbors. The current COVID-19 climate is giving more opportunities than ever to do just that. Everyone is trying to figure out what they should be doing to offer their members the best opportunities as they navigate through this challenging time.
That's why we created this COVID-19 resource guide for Credit Unions, consisting of several trends we have seen throughout the credit union marketing and advertising space, and some frequently asked questions about how credit unions should be responding right now.
Also, we recently hosted a special webinar if you want to take a deeper dive into the current credit union marketing and advertising trends.
Consumer Trends and Behaviors
The number of people currently stuck at home, the FED lowering interest rates to 0%, and a high level of employment and income uncertainty has caused a massive uptick in online activity in recent weeks.
Despite a slight decrease in interest in financial products overall, there has been a dramatic increase in metrics such as screen time, reach, and search volume for terms surrounding refinancing and personal loans.
Although in the beginning stages of this crisis conversion rates were low, they have recovered over the last few weeks. We are seeing a higher number of people actually complete and submit applications now as the situation has begun to stabilize a bit.
Average cost-per-click has continued to decrease so we recommend that you shift some of your advertising budget into different products that you see opportunity in right now.
Another trend that we've noticed throughout this pandemic has been an increase in pageviews for mortgage applications and rates. They have begun to decrease a bit over the last few weeks but still remain higher than usual.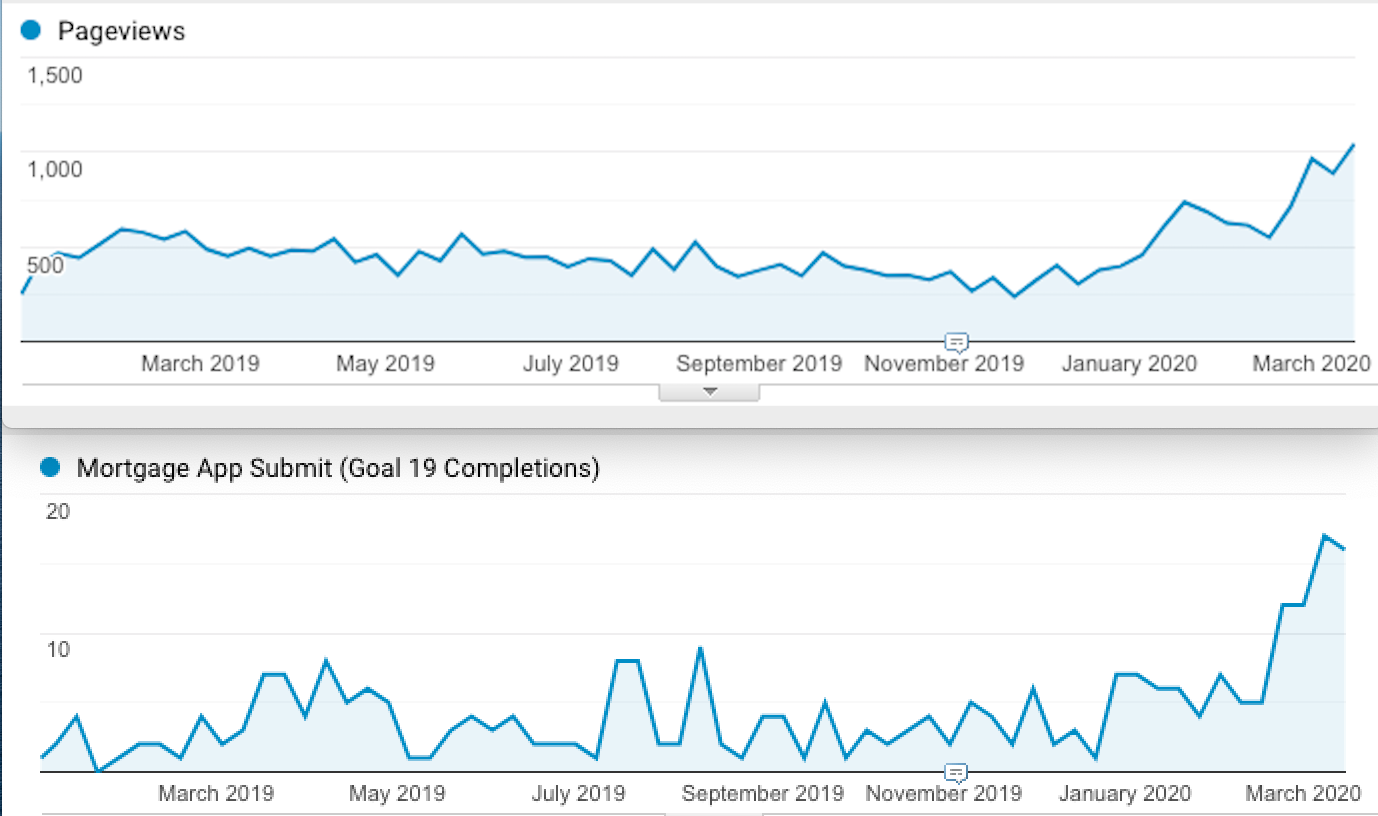 Pages designed for scheduling appointments and contact forms have also seen a sharp increase in traffic lately, which means members are still trying to reach out to credit unions to handle their financial needs.
We've also seen an influx in "brand" and "brand + online banking" searches, so it's essential that your online banking system is operating efficiently, and you provide as much information as possible on how to navigate your online banking system.
Along with online banking terms, there has been an increase in questions from consumers regarding the timing of making financial decisions. This indicates that consumers are interested in taking action, but are seeking resources so that they can feel confident in their decision.
Finally, a really interesting trend that we have noticed has been an increase in membership and account applications. At the beginning of this pandemic we believed that they would remain stable due to high loan demand, but have seen the opposite effect.
This dashboard will help you keep up with daily & weekly changes in national online searches for specific product categories plus a few additional relevant search topics.
Click on any of the topics below to jump to that data or scroll down to look through them all (NOTE: The charts on that page are pulling in super-fresh data from Google so they may take a few seconds to load):
Optimizing Your Website for User Experience
According to Akamai, web traffic is 50% above average right now. This influx in traffic may be causing issues with your website, such as a decreased speed, that hinders your user's experience when trying to research your credit union.
On a basic level, it's important to take a step back and audit your website to make sure that it's working efficiently, lacks technical errors, and is mobile-friendly.
If you're looking to test the speed of your website, consider using tools such as SEMrush or Moz, which will provide you with insights into how your website is performing.
Furthermore, utilize tools like the Google Search Console and the Google Mobile-Friendly Test to see if your website has any technical errors, and verify that it is optimized for cell-phones and tablets.
Google My Business Updates
Google My Business has made some changes recently that, if used correctly, shouldn't have a negative impact on your credit union.
Here are some of the scenarios you may need to communicate:
If your branch's lobby is closed, but your drive-thru is open, then change your hours of operation to reflect the drive-thru hours.
If your branch's lobby and drive-thru are closed, but you have an accessible ATM, update your business name to include that (ex. WebStrategies Credit Union - ATM Only.)
If your branch is completely closed right now, use the new "temporarily closed" feature that Google has added for the time being until your branch reopens. Be sure you don't mark your location as permanently closed.
Furthermore, some businesses have been automatically marked as closed by Google's algorithms, so it's important that you check the Google My Business profile for each of your branches to ensure that hasn't happened to your listings.
You can also use Google My Business' new COVID-19 post feature to inform your members of any updates to your operations or other updates surrounding the ongoing pandemic.
FAQ's
How Should We Be Adjusting Our Advertising Campaigns?
We have had several questions around advertising. Is it appropriate to advertise? What channels? What should your messaging be? How can we use advertising as a means to help our members through this without coming across as blind to all that is going on?
We suggest that you stay calm and continue to run advertising that is aligned with your goals, but sensitive to the current environment.
Over the last few weeks we have seen a continued increase in conversion volume, impressions, membership applications, and search volume share from credit unions who have continued to run their advertising campaigns and promote products that are currently performing well.
With many other credit unions pausing their advertising and resetting, now is a great time for you to advertise more and increase your market share.
Search campaigns remain vital because consumers are still highly active in search engines, looking for you to help solve their financial questions. However, make sure that they reflect your current offers or promotions.
In regards to display and Facebook ads, conduct an audit to verify that you are not promoting content that is not aligned with the current environment, such as travel card offers, and change up your messaging to have a more empathetic tone.
Also, consider using a tool such as the Google Ad Library to monitor how your competitors or other credit unions are designing their messages.
What steps can we take to alleviate pressure on our call centers?
The easiest step that we suggest is to implement a chatbot on your website. A chatbot will improve the user experience on your website and help direct your members towards the right representative or offer them resources that answer their questions.
Chatbot scripts are very simple and easy to customize and allow you to consistently communicate with your members as they browse throughout your site and guide them towards their desired action.
Not only will a chatbot alleviate call volume for your credit union throughout this crisis, it will provide a ton of long-term value to your members after things return to normal.
Is it appropriate to conduct outreach to employer groups during this time? If so, how can we alter our messaging to prospects?
Yes, it's okay to reach out to employer groups. However, you should focus more on having human-to-human interactions and designing your outreach in an empathetic manner because a lot of employers are being faced with difficult decisions at the moment.
Our lobby is still open for appointments only. Should we still be promoting that or focusing more on digital conversions?
We believe that you should focus on digital promotion as much as possible. With the amount of uncertainty surrounding safety right now, you don't want to encourage consumers to leave their homes if they are uncomfortable doing so.
How Should We be Communicating With Our Members?
Some of the most common questions that we have received lately have been centered around communicating with members during this crisis. With anxiety around the world at an all-time high, now is a great time to focus on the core mission of your credit union: to serve your members.
Whether it's conducting direct calls, sending messages on social media, or updating communications on your website, the more you can over-communicate with your members now, the better.
Now that we have shifted out of the initial panic phase of this pandemic and things have begun to stabilize, we have spoken to numerous credit unions who are looking to take measures that position them for success as the situation begins to improve.
Newer tactics such as marketing automation and chatbots have been discussed to help credit unions adapt to this new normal of having to assist members digitally.
What Type of Unique Offers Should Our Credit Union Provide?
At the end of the day, brands who are thinking compassionately and putting their members first throughout this pandemic are going to benefit the most.
That's why you should be thinking outside-the-box and coming up with different ways that you can deliver value to your members.
Some unique offers that you could provide include:
Relief loans
Skip A Pay or deferring payments
Increasing lines of credit
Waiving out-of-network ATM fees or increasing cash withdrawal limits
Moreover, producing educational content that solves questions such as how to use online banking or what to do when presented with potential scams can help you strengthen relationships and build loyal, long-term relationships with your members.
As the government continues to provide different types of stimulus packages, inform your members on the details of each package and how they can benefit from it.
What role can marketing play in helping a credit union protect its profitable members?
Protecting your profitable members comes down to putting an emphasis on your customer lifecycle and having a well managed CRM. A well-built CRM will allow you to segment current and potential members into different lifecycle stages and target them with specific content.
These targeted campaigns allow you to attract, engage, and delight members until they reach a point in which they are loyal ambassadors for your credit union.
A CRM that we have experience with and often recommend to clients is HubSpot because its advanced CRM system has the capability to tie revenue directly to a member or different marketing and sales tactics.
It also has advanced integration capabilities that allows you to upload data straight from your core or LOS so that you can have highly targeted messaging.
What kind of legal obligations do credit unions have to protect their employees? If someone sues us because they got the virus, what should we have in place to avoid that?
Connect with the NCUA. They will be able to point you in the right direction in regards to a potential lawsuit. Here is their website. https://www.ncua.gov/
Have other questions?
We are dedicated to keeping credit unions informed and well advised during this challenging time. If you would like to talk through how you can adapt your credit union's communications and marketing strategy, let us know how we can help.