If you are looking to fill your pipeline with qualified sales prospects in a predictable, repeatable way, you need to read this post. While inbound marketing and lead nurturing using marketing automation platforms like Hubspot have proven very effective and many of our clients are seeing remarkable results, if you're in sales and have quotas to hit, you need to consider investing some time and money into outbound marketing. The combination of a good, persona-based inbound and outbound marketing program can create a powerful "selling machine".
You think outbound calling programs are no longer successful? You're wrong. It may be difficult to get the right person on the phone sometimes, but you can and it does work, if you do it right. Plus, you can more easily predict how many prospects you can generate to fill your pipeline.
This article outlines three strategies around outbound calling programs for sales prospecting, and then gives some added advice about how to grow your sales long term.
Preparation
Before you begin filling your pipeline with sales prospects, you need to determine who you want to contact. Here are four elements to prepare for your outbound calling program…
Your target market - remember, if you are marketing to everyone, you are marketing to no one! Be precise about defining your target market in terms of their geography, their demographics and their psychographics. By psychographics, I mean persona research and development.
Buy a list – there are several places like InfoUSA and Sales Genie where you can purchase of list of prospects based on your target market criteria. Realize though that these lists are marginally accurate. A respected source in this space recently estimated the accuracy rate at about 30%, almost regardless of from whom you purchase the list. Nevertheless, this is a place to start.
Linked In search – using the advanced search function in LinkedIn, you can generate a list of sales prospects that meet a variety of criteria determined by you – attributes like location, job title, etc. The numbers may not be as large as purchasing a list, but this method produces better quality at a lower cost.
Valuable content – obtain or develop some content that is valuable to your target market. This may be an important report about the industry, a great article, a research study or something else that the people you are calling find valuable. You'll use this to get contact information if you are unsuccessful at getting an appointment
"Right party calling"
"Right party calling" is a quick call just to find out who the right person is within the target company that might be your prospective buyer. These calls are quick and easy to make. Depending how busy you are, you may decide to outsource this to an individual or company that is set up to make calls in an efficient way.
The script might go something like this – "Hi, my name is Neal Lappe and I'm just calling to find out who in your company makes decisions about marketing? I'm not selling anything to you, just wanting to determine who makes marketing decisions at your company." You won't be 100% successful, but "right party calls" will get you some good information that will make the next step much more productive.
Appointment setting calls
These calls are a bit more challenging because the objective is to get an appointment with the person you're calling. Depending on the resources available, you may do this yourself or engage a firm who specializes in appointment setting calls.
These calls require a good script and more advanced skills. My firm conducted a research study and we asked decision makers questions about calls from salespeople. When asked what they would need to hear to set an appointment with a salesperson and/or return a sales call, they stated two main things. First, they want to hear quickly what's in it for them. Secondly, if you can state someone they know referred you and/or you are working with a well-respected company in the same industry, you will gain you credibility and get their attention. See the charts below for more detail.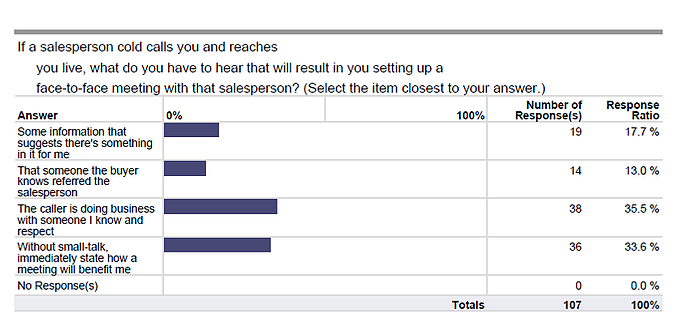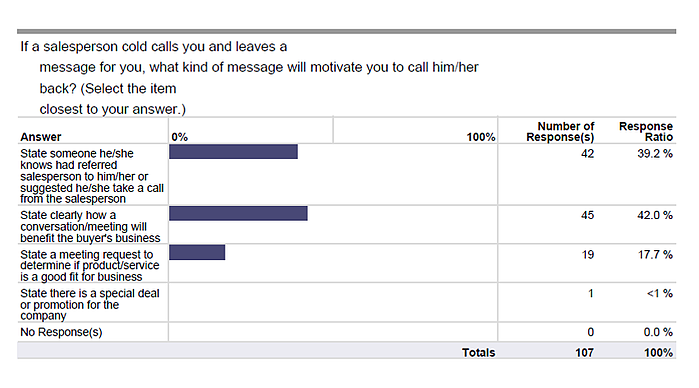 The script might go something like this – "Hi, my name is Neal Lappe and my firm has developed a unique way of generating sales leads using automated marketing techniques. Joe Schmo (a person known by the person being called) suggested I contact you thinking your firm might benefit from a program like this. Can I get just a few minutes on your calendar next week to stop by and share a few details?"
Your appointment rate as a percent of the calls you make will be low, but this approach is an effective way to get in front of a qualified buyer with whom you can begin to create a trusting relationship and perhaps do business with him in the future.
Calls seeking advice
Would you like to learn more about what's important to your customers? Most good salespeople would. So, calling for advice, not selling anything, is an effective way at getting in front of your target customers. The person receiving the call might be skeptical about your motives, but this method may improve your chances of having a meaningful conversation with a prospective buyer. Worst case, the person you are calling might feel flattered by your inquiry.
When you make these kinds of call, be genuine. Don't seek advice unless you are genuinely interested in hearing it. This is not a ploy and not a sales pitch. It is a genuine desire to get expert opinion about your product/service. If you can't genuinely ask for advice, then don't do it. Don't even give the slightest hint that you are making a sales pitch. If you do it right, the prospective buyer will ask you about your product/service and you'll be on your way to creating a valuable relationship.
The script might go something like this – "Hi, my name is Neal Lappe and I'm seeking some advice about sales training. I realize I am asking a big favor of you, but I am trying to improve my service and could use some help. In some ways I don't know what I don't know. Please know that I have nothing to offer or to sell you – I'm only seeking advice. May I get a few minutes of your time for some advice?" When in front of the person, you can begin asking your questions and if the person wants to use your service or buy your product, you'll know. He will likely just ask.
Whether you are calling to just get a contact, set an appointment or seek advice, you will have some success and also a good number of "no thank you's". In these cases, do your best to get a name and email address so you can stay in touch with the prospect by providing them valuable information over time. Eventually when that person gets in the buying mode, he will think of you and then you're on your way to making a sale.
Inbound & outbound marketing creates a very powerful "selling machine"
When you have a well thought out inbound marketing program and you combine that program with effective outbound marketing tactics, like telemarketing, you end up with a "selling machine". Your "selling machine" fills the pipeline, provides your sales staff a consistent stream of qualified leads, and enables you to nurture your leads through the buying funnel in an automated way. When your buyer gets into the buying mode, you're there to bring value and make a sale.
In summary
Outbound calling remains an effective, predictable way to fill your sales pipeline. Prepare a good script that contains the elements important to the buyer, and get busy making some calls. Combine this outbound calling program with your automated inbound marketing and lead nurturing plans, and you will undoubtedly have a full pipeline of buyers with whom you can engage and create a positive, lasting relationship.