A few months after ChatGPT launched in November 2022, it was the fastest-adopted technology to date, by far. A few short months later, technology companies sought to layer ChatGPT or other AI tools onto their platforms because the capabilities to interact in a more human-like way are very appealing.
That's when HubSpot launched ChatSpot, its own AI interface that communicates with HubSpot using ChatGPT to translate human prompts into language that HubSpot recognizes - saving time and brain power for the person submitting the prompts. At least, that is the intention. As ChatSpot is still in its infancy stage, we see a mixed bag of results, but it is improving and becoming more functional for HubSpot users.
When I asked ChatSpot, "What are the best uses of ChatSpot right now?", it responded:
"As an AI assistant, ChatSpot is designed to help users interact with their HubSpot CRM and many other SAAS tools.
Some of the best uses of ChatSpot include:
managing contacts
automating tasks
scheduling appointments
analyzing data
ChatSpot can also help with lead generation, customer service, and marketing campaigns."
So while ChatSpot may not yet provide answers to complex questions or perform complicated tasks, it has interesting capabilities, demonstrated by Caroline Prettyman, WebStrategies' Senior Manager of HubSpot Strategy.
Three Ways ChatSpot Can Help Marketing and Sales Teams
1. Create a contact record and set up a task to contact them
A salesperson on a call can quickly add a new contact to the CRM and create a task (reminder) to follow up with them in four days. Instead of manually creating a contact in HubSpot, entering all of their information, and then creating a task to follow up with them, you could prompt ChatSpot:
"Add contact Chris.Leone@webstrategiesinc.com and follow up with him in four days". The record will be created, the task created and assigned to you, and then ChatSpot provides an option to add an additional note for more context. A time-saving set of steps performed quickly by the AI tool.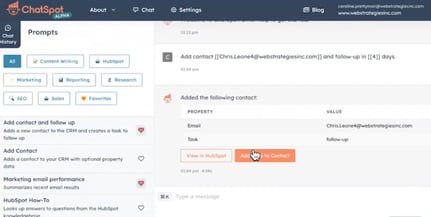 2. Research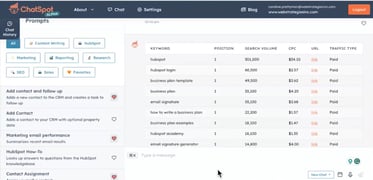 Digital marketing research on competitors is easy in ChatSpot. Prompt with the question: "What PPC keyword does CompetitorURL.com buy?" to see the paid search terms a competitor in your space is pursuing, as well as the CPC for the terms. It returns a table of keywords, positions, search volume, CPC, URL, and traffic type.
The ability to perform competitor research from HubSpot/ChatSpot saves users from going to several different tools, such as Google's keyword planner and multiple research tools, enabling access to the information in one location with a simple prompt.
3. Reporting
To create reports, a user previously had to go to Dashboard, Reports, and Create Reports. Then the user would need to have the knowledge and experience to decide what data points will be used to create the report and whether there are single or multiple objects. Users who don't know the ingredients that go into the report can save time by asking ChatSpot. For example: "Create a report on website traffic for 2023" and then tell it to display the data in a bar chart, or view it as a table.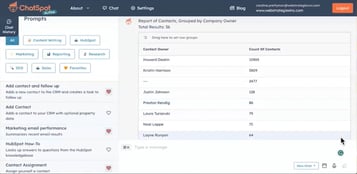 Sales managers have the ability to generate a report of contacts grouped by the primary owner. This information can help with data maintenance and hygiene because it allows them to see the team members to whom clients are assigned and the number of contacts assigned to each team member. This gives the information and opportunity to see imbalances in workload and to easily reassign contacts if the owner is no longer with the company.
Users of HubSpot have the ability to connect ChatSpot to the CRM and leverage the time-saving tactics it enables. As always, never upload private or sensitive information into ChatSpot, or any AI tool, because the information submitted to AI becomes public.
Additional Resources
Keep up with developments that AI is bringing to marketers by subscribing the our credit union marketing newsletter or follow us on LinkedIn.