2019 Community Bank Marketing Survey Results
We recently surveyed community banks to learn more about how they're approaching digital marketing, what they're having the most success with, and where they're experiencing the biggest marketing challenges.

Survey Results
The results reinforce what we frequently hear from community banks we speak with, and uncover clear opportunities for banks to improve their results dramatically by investing in new tactics.
The results report includes both the survey results, and strategies to address the most common marketing challenges identified, and opportunities to maximize marketing performance.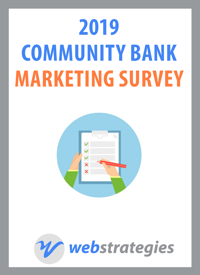 Download our free report to read the 2019 Community Bank Marketing Survey results.