Year two of attending the
Electronic Security Expo (ESX)
conference in Nashville, TN, and it did not disappoint! As security marketing experts and ESA members, we feel that conference attendance is a must. As always, Nashville was a very welcoming city with great food, music, people, walking areas, and plenty of Uber drivers.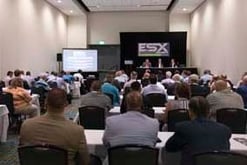 From the opening breakfast right up to the last day, the focus this year was on connectivity, leveraging data, RMR growth, the customer experience, and Amazon and Google's impact.
Here are some of the major golden nuggets and security trends I picked up at the conference:
There is increasing integration and connectivity, even between homes and vehicles. Multiple devices are tied together in a comprehensive platform.
The technology used should fade into the background, connections should be transparent.
Systems will get smarter with AI. Example - Doorbell cameras knowing the difference between the UPS driver, your family and your neighbors.
Voice activated devices - people will give up some level of privacy for convenience.
Security companies need to provide value added services - help people figure out what products and systems to use. Focus on the end to end experience.
Keep customer systems maintained to ensure they are receiving the optimal experience from them.
One of the most beneficial sessions I attended was on new commercial security emerging industry growth opportunities. A panel led by Sofia Agular of A-1 Security Systems, Mike Dunn of Best Security Industries, Mike King of Axis Communications & Matt Tyler of Wachter provided these insights:
Marijuana Dispensaries - highly regulated, required to have strong access control, video and fire systems, approved for medical use in 30 states and recreational use in 10 states. Big RMR opportunity in the following areas for this industry:

Interactive Security
Video Analytics - preemptive video with two-way audio. As high as $850/mo.
Video Monitoring
Video Recording
Could Based Access Control
Large national security companies not interested in this market
Average RMR for about $250/mo.
Can charge a high consulting fee - up to $5,000 to map system requirements
Retail Stores - while some stores may be cutting their security budgets, there is a big opportunity to appeal to their operations and marketing teams with video analtyics.

Provide real time data to the stores
How long customers have been there
Analyze line wait times
How many people are in the store at any given time
Checking for fraud - was the customer on the other side of the register when the employee gave a refund or voided a sale
Use data to determine how many employees to have during certain hours
Analytics RMR can be $100/month per store
Provide training, customized reporting and ongoing support
Partner with data science companies to analyze the data
Manufacturing - industrial control companies need to add access control to their systems.

Video for safety is becoming more prevalent. Can use to automatically shot off a machine if the operator gets too close.
Use video analytics to improve efficiency and up-time in the plant
Vibration sensors in equipment can trigger the camera to turn on to identify when the equipment is not functioning properly.
Schedule predictive maintenance
Healthcare - go beyond the traditional security to protect pharmaceuticals

Leverage cameras to ensure patient safety and wait times in the waiting room
Schools - consistently in the news and many states and localities are finding money to increase security.

Access control
Surveillance cameras
Panic buttons
New products that can detect a shot being fired.
Active shooter detection systems
School bus cameras and video storage.
Integration with student ID badges. Alert parents when kids get on/off the bus and into or leave school.
Some school systems may need assistance in applying for grants
Improving the customer experience was another significant theme at the conference. Here are some trends I picked up:
Some security companies have created a new role - Director of Customer Experience.
Have an in-house technician available to answer customer questions
Combine inbound sales staff with customer loyalty staff to create one team
Develop a communications committee to keep the company in the loop on what's going on. Add digital signage to a high traffic area in your office.
Consistently review your customer inactivity list and give those customers a call
Survey your customers to get their feedback on service, products, education, etc.
Get your brand out in the community and on social media
Ask for referrals
Customers are only using a small percentages of the features of their security system. Continually educate them on the benefits of the functionality available.
Offer upgrades with special incentives
Providing automation and energy management creates a sticky customer
Switch to monthly contract terms with better rates for longer-term agreements
Offer a self-install option
Don Yeager, author of "Great Teams" and former Sports Illustrated Associate Editor gave a wonderful keynote on how and why great teams develop and maintain their excellence.
Know their "why"
Connect to those they are in service of
Think about their impact on the customer and downstream beneficiary of services
Constantly remind everyone about their greater purpose
Thank you to the ESX team for organizing and running a great conference. The more you attend these conferences, the stronger relationships you build with the attendees. Looking forward to next year's conference in Indianapolis, IN.