2018 Credit Union Marketing Survey Results
We recently conducted our second annual survey of credit unions to learn more about their marketing approach, and where they're seeing both success and challenges.
Sixty-nine credit union professionals submitted their responses, including Marketing Directors, CMO's, COO's and CEO's, from credit unions across the country and ranging widely in asset size.
Survey Results
The goal of our survey was to establish where credit unions are investing in digital marketing, what tactics are performing best for them, and where they are experiencing challenges. The results closely follow what we're hearing from credit unions we speak with every day, and reveal some opportunities for credit unions to improve their results dramatically by investing in new tactics.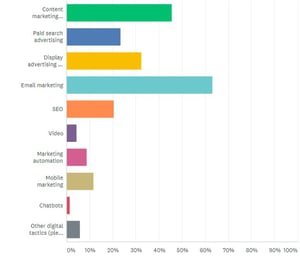 Our results report includes not only the survey results, but also strategies to address the most common marketing challenges that credit union professionals identified, and opportunities to maximize marketing performance.
See the Results
Download our free report to read the 2018 Credit Union Marketing Survey results.