Credit unions are turning to automation like chatbots to improve client engagement and boost the productivity of employees. Chatbots improve customer service and provide valuable data that organizations can use to drive further success and profitability.
Even better, utilizing a chatbot doesn't have to be complicated to be effective.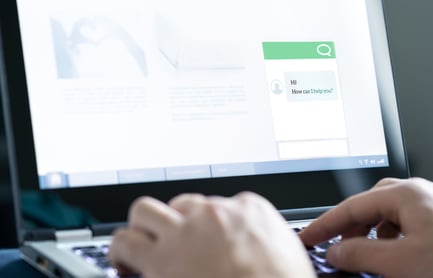 Benefits Of Chatbots For Credit Unions
Deciding to invest in a chatbot can seem like a big step, but the benefits outweigh any concerns. Most often, it's a seamless process providing numerous benefits including these:
Improve User Experience
At the heart, chatbots improve customer experience. They allow your customers to gather information and get help fast, easily, and at any time of the day and night. Consider how a chatbot influences how customers interact with your business.
Customers no longer have to call in to speak to a customer service representative to get answers to many of their questions. And especially in times of change and difficulty, as many have experienced in 2020, members won't have to endure long hold times in order to get help. Instead, they ask their question to the chatbot, which operates much as your agent does. They get fast results, often in seconds, even if your reps are long gone for the day. Being available nights and weekends like this enhances customer perception of your business.
Chatbots learn and become more valuable over time. They get to know your customers well but also learn how to get them accurate answers. That means customers get accurate answers faster. Machine learning, which chatbots use to expand their knowledge over time, is an excellent way to better address the actual questions and needs of your member base.
Today's chatbots are not formalistic and cold, but friendly and quite interactive. Customers get a combination of a live conversation with fast responses, something they prefer especially when they don't have time to wait on the phone. It's personal and effective.
Alleviate Strain on Customer Service Teams and Reduce Costs
Chatbots offer benefits to your customer service team as well, taking the strain off of answering phone calls. Members get answers to most of their common questions right away, freeing up your staff to handle more complex and pressing needs. That makes employees happy. It also reduces the strain and stress on the job. When call volumes are lower, your employees have less to worry about on a given day.
Automated chatbots help to reduce customer care costs to your organization. Consider how much you pay people to answer common questions over the phone. What could those people be doing instead to increase value? Chatbots are a common tool to reduce the cost of labor associated with answering customer questions.
Automatic Sales Tool
From a bottom-line perspective, chatbots are powerful sales tools. Not only do they keep customers happy, but they can do sales work for you. That includes making product recommendations to customers who may need them. They can tell customers about services that can solve their concerns or enhance their experience with your credit union.
They also provide a better level of service, which always enhances conversations. They are there 24/7 not just to members but also to potential members. Instead of going from one company to the next to find solutions, customers get what they need at your site.
They gather leads as they go, too. As a lead capture tool, they can turn that connection with a potential member into an opportunity to convert them later. More of your website visitors become members and loan applicants.
Chatbots can be set up to send lead information to loan officers as appropriate, so that they can follow up with potential members. They can also be integrated into marketing automation platforms, to automatically start nurturing leads who engaged with a chatbot.
Gain Data
Today, companies with data have a pure opportunity to enhance their marketing, sales, and product development profoundly. Chatbots can create that data in various ways.
For example, you can track the questions people ask the most. That allows you to then create content or marketing campaigns to address those needs. You're giving people what you know they need to make decisions. That can further enhance your chatbot's results by eliminating more need to call customer service representatives.
You can use this data to track customer behavior more fully, learning from it as you go. Where are customers going on the site? Where are the places where they jump off? What are they searching for?
The Difference Between Live Chat vs Chatbots
Live chat involves a human answering the questions of the customer as they come to your site. Chatbots are machine learning, automation powerhouses.
Here's a look at some of the differences.
Live Chats
They provide live interactions with a human.
Humans can handle more complex issues that customers need help with, making it a better option over chatbots for these types of needs.
Live chat is a more affordable option compared to providing phone support, especially when in-house phone support takes your reps away from in-person customers.
It increases conversion rates because it's a personal service.
Live chats allow you to better understand your customer's needs especially for more complex topics.
Customers like the convenience of getting live help without having to pick up the phone.
Depending on how much traffic the live chat feature gets and how many live agents you have on hand, it could mean customers have to wait for a while. Chatbots don't have this type of delay.
Chatbots
They provide instant answers to questions.
While they may not handle the most complex topics quickly, they can funnel clients to information that's likely to answer those questions.
Chatbots handle the most common questions customers have.
They reduce costs significantly and tend to cost significantly less than supporting live chat features.
Chatbots learn over time, making them more valuable the longer they're in place.
There's no concern over having enough people to answer customer needs. There's never a wait.
How To Use A Live Chat And Chatbot For A Credit Union
One of the best outcomes is to combine the use of a live chat with a chatbot. When a customer has a question, he or she asks the chatbot. If it can, it answers. In situations where it cannot, the chatbot instantly transfers the conversation to a live chat. That way, a human can jump in to answer those questions. This way, only those questions that need a human response are ever put in the hands of the live chat.
As a result, live chat resolves most concerns, frees up the queue to eliminate backups for your live chat, and still enhances customer service. When your business hours are over for the day, the chatbot works to meet customer needs during off hours.
Using a combination of live and automated chat also allows loan officers to jump into chats when they're available and when someone is interacting with the bot in a way that would suggest they would be a good candidate for a loan. Using a bot to ask some qualifying questions before notifying a loan officer or customer service rep to join a live chat helps make the best use of their time, provides a better user experience, and could help close more business.
Is A Chatbot Right For Your Business?
Credit unions benefit from live chat and chatbots. It saves money, improves member and nonmember engagement, and creates opportunities to enhance sales. Across the board, this is an investment worth making and one that tends to pay for itself in multiple ways over time.
Are you ready to learn more? Check out our recent webinar on how credit unions can leverage chatbots as valuable lead generation and customer service tool.
For more information on other digital marketing tactics for credit unions, click the button below to visit our credit unions marketing resources page.