What's the big deal with video marketing? Why should you add it to your content marketing strategy? Video content is here to stay and it's not going anywhere. Content Marketing Institute found that 78% of B2B marketers are investing in video in 2023 - that's up from 69% in 2022. Wyzowl reports that 91% of all business types will use video as a marketing tool in 2023.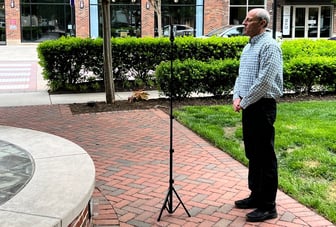 Let's examine the importance of why video is becoming such a big part of companies' inbound marketing strategy.
Improved Buyer Engagement
Video engages audiences more effectively than text or pictures alone. In fact, social video generates 1200% more shares than text and image content combined. How does that work? Video captures the attention of potential customers by adding a human element to your product or service. Video allows you to share thoughts, feelings, and information more compellingly. This is especially important when it comes to lead generation for manufacturers. It helps audiences retain more of the information they receive.
Manufacturing SEO
Let's look at the technical side. Video helps drive organic traffic. Youtube is owned by Google. If you add videos to your Youtube Channel it can help elevate your rankings and authority with Google. Websites with video content are more likely to rank higher on Google's search results. If your video gets enough ranking and authority, it can be listed on the SERPs which would elevate your brand authority.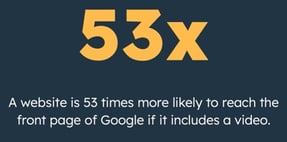 According to Video Marketing with HubSpot, a website is 53 times more likely to reach the front page of Google if it has a video
**Pro tip** After videos are uploaded to YouTube, promote them to your relevant email lists. At HubSpot's Inbound 2022 conference, Neil Patel shared that it increases viewer engagement and boosts your Google ranking.
Increased Conversion Rates
Video helps clients visualize the product or service benefits your company offers. 90% of marketers say video has helped them generate leads. For B2B manufacturing companies, video allows you to showcase your capabilities and expertise in a way that pictures and text can't. Video allows customers to use their imaginations with a visual representation of how your product or service can solve their problems. Something else to remember is that it shows what your product DOES NOT do. Which can cut back on wasted time fielding inquiries that are not a right fit for your business.
Enhanced Brand Credibility
Let's talk about trust. Video is a great way to demonstrate your products in action, and also showcase industry knowledge. Video lets you demonstrate your products or services from different angles and perspectives. This can help increase the connection between your brand and a prospect. Video allows you to build a stronger emotional connection with your clients and potential clients. It's important to incorporate storytelling. A great story is what will make you memorable after the video has ended. We will dive more into storytelling later in the piece. Stay tuned. Creating that emotional bond is what transforms clients into advocates.
Measurable ROI
This is one of the big questions companies ask: How do I measure ROI? That depends on the metrics of your business. It's important to understand what metrics are important and how you measure success. Data helps you refine and improve your video marketing strategy. Here are a few facts
63% of video marketers say that the number of video views is one of the metrics by which they measure the ROI on their video content
61% of video marketers say that the level of audience engagement – defined as things like shares, likes, and comments – are metrics by which they measure the ROI on their video content
56% of video marketers say that leads and clicks are metrics by which they measure the ROI on their video content.
How To Get Started?
Your question now might be, "How do we get started?" And going deeper, you may wonder:
Do I need a professional crew?
Is there a certain amount of videos that I need?
Is there a certain length of time that my videos need to be?
What quality do they need to be?
Can I use my phone?
You don't have to break the bank to get started with video. There are plenty of low-cost ways to get creative with video. It's important to start off with a plan. Creating a process will help you break down the steps so that it won't seem like a daunting task. This will also allow you to refine the process so that you can tweak it and get better over time.
Start by thinking about:
how many times do you want to post in a week? In a month?
What resources do you have available?
What platforms will you use?
How will you promote it?
These are just a few to consider to get going. The important thing is to get started.
Video quality matters. Thankfully, modern smartphones have cameras that rival top video cameras so you can get quality recordings with good set planning, a microphone, no background noise, and lighting.
Strategies to Maximize Video Content Engagement and Views
Let's look at a few ideas to increase engagement and views.
1. Focus on storytelling and value
Compelling stories and valuable information should be at the heart of your video marketing strategy. Stories allow us to engage the audience memorably and establish a connection. Facts and figures in the business world don't stick in our minds as much as you would think. Stories create sticky memories. Stories attach emotions to things.
Start with a message you want to share. Think about your audience. Don't create a video without a purpose. ADD VALUE. Address your target audience's needs and pain points. Keep a clear structure so it is easy to follow.
2. Collaborate with industry influencers
Who is a thought leader in your industry? Work out partnerships with influencers or thought leaders for expanded reach. Use interviews on podcasts, guest appearances on webinars, or co-created content. Creating value for both parties has an added benefit. Some services also can connect you with influencers. I would be mindful of who you partner with to ensure that they are relevant to your target audience or else it can seem more gimmicky.
3. Leverage social media platforms
Share content on LinkedIn, Facebook, Twitter, and Instagram. Tailor your social media post. Use the appropriate captions and hashtags. Tag influencers in your space. You never know, they might like your video and decide to share it with their audience. Keep in mind the length of your video. Thirty-three percent of viewers will stop watching a video after 30 seconds, 45% after one minute, and 60% after two minutes so keep it short and to the point.
Conclusion
Over 2 billion users are navigating the YouTube platform. That is almost one-third of all internet users. According to Forbes, 80% of all consumer internet traffic will be from online video traffic soon. If you are not incorporating video into your inbound marketing strategy you are missing out on a HUGE opportunity to get in front of the right audience.
Need help with your inbound marketing strategy?
Check out our additional manufacturer marketing resources or contact WebStrategies today!