One struggle that we commonly hear from credit union marketers is the inability to prove the ROI of their marketing efforts consistently.
While you may know that your hard work is producing results, it can be difficult to truly understand the effectiveness of your advertising and marketing campaigns without very detailed tracking. Difficulty for credit unions attempting to report end-to-end results often arises when trying to integrate tracking into commonly used LOS systems like MeridianLink.
We've developed a unique way of integrating Google Analytics with the latest version of MeridianLink to allow for end-to-end tracking, allowing precise ROI calculations for credit union advertising campaigns and organic search traffic.
Why is being able to prove ROI Important?
If you are seeking approval for a higher budget, or even to maintain your existing marketing budget, or expand your marketing strategy into new areas, you are going to need to be able to demonstrate to your C-Suite and board that your efforts are benefiting your credit union financially and are driving growth.
In the past, this was a difficult task for credit unions who use MeridianLink as their primary LOS because of its inability to integrate with a website tracking platform like Google Analytics or Google Tag Manager.
Credit union marketers could prove that their work was generating website traffic and conversions, but have been unable to connect that to completed applications to identify precisely which loan applications came from these campaigns.
With this breakthrough method, credit unions can now successfully implement end-to-end tracking on their advertising and organic search campaigns with the latest version of MeridianLink.
What does ROI tracking look like?
While you may think tracking ROI sounds like a complicated process, it's relatively simple to set-up.
There are three things that you need to implement ROI tracking for your credit unions marketing and advertising campaigns:
Google Tag Manager
Google Analytics
The latest version of MeridianLink
By implementing Google Tag Manager on your website, and sending unique, anonymous data into MeridianLink, you can now export and combine your campaign data and loan information.
You can see an example of this tracking in action in the image below.
When implementing this level of precise tracking, you will have a much better understanding of the number of loan applications, what type of loans, and how much revenue your advertising campaigns and organic search traffic are generating.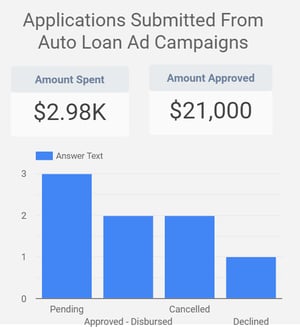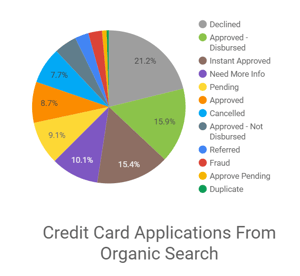 In turn, you can use this data to dial in on which campaigns are the most effective, and create detailed, easy to visualize reports that demonstrate the effectiveness of your work to your C-Suite.
Implementing ROI Tracking for Your Credit Union
As credit unions across the country continue to become more and more sophisticated every year, having the ability to showcase the amount of revenue that your work results in is essential in getting the support you need to propel your efforts forward. It's also essential data for marketers to have, so that they can make better decisions about where and how to invest their marketing dollars, and focus in on campaigns that need improvements or are wasting money.
If your credit union is using the latest version of MeridianLink and are ready to take your digital marketing and tracking to the next level, let's talk about how you can achieve this level of sophisticated tracking for your marketing and advertising campaigns.
Click the button below to schedule a quick call with one of our credit union marketing experts!