Melissa Ball, CEO & Owner of Ball Office Products in Richmond, VA has been named the Henrico County Community Leader of the Year for 2013.
I'm proud to say Melissa is a fellow member of Roundtable 5 with the VA Council of CEOs, and I can testify to her giving ways. Melissa has always impressed me with her willingness to give her time and intellect to help others. Consequently, I am not surprised at all about her winning this award.
Ball Office Products is a leading supplier of office supplies and furniture throughout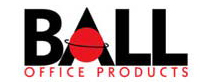 the state and caters well to a wide variety of businesses and industries. Melissa, along with her husband Jonathan, have built Ball Office Products to be a very respected member of the business community. This Community Leader Award only validates what so many already know.