Originally posted on September 4, 2020, this post was refreshed in April of 2022.
Industrial companies like manufacturers are becoming more invested in digital advertising and content marketing to drive traffic to their website. Along with that focus on generating website traffic should come strategies for connecting with qualified traffic—capturing visitors' information so that you can start to build a relationship with them.
By collecting details like your visitor's name, email address, and the company they work for, you can input this information into your CRM, monitor their interactions, and follow up much more effectively.
We recently published an article detailing 8 of the most effective lead capture ideas for manufacturers. Below, we bring you even more unique ways that manufacturers can stand out from competitors and capture more website leads.
1. Improved Search Feature
An enhanced search feature can provide tremendous value if you have an extensive collection of products or parts listed on your website.

From a user's perspective, clicking through various pages and menus to find what they want is far less than ideal.
An enhanced search feature will improve the user experience on your website dramatically and enable your website visitors to quickly find what they are looking for, making them much more likely to make a purchase, submit a contact form, or give you a call.
2. Create a Quiz
Designing a quiz or survey that your target audience would find interesting is an excellent way to collect lead information and valuable insight into how your audience thinks about a particular topic.
With these tools, you can ask your website visitors about trends surrounding their business, how they feel about particular subjects within your industry, or any other questions that will allow you to use the information productively.
The most important aspect is that you include a field or two within the quiz or survey that requires users to submit some basic contact information so that you can collect those valuable details.
3. Loyalty Program
For manufacturers who generate a high amount of repeat business, a loyalty program encourages future purchases and captures new leads.
How you structure your loyalty program will be unique based on your business, but offering incentives like a discount following a certain number of purchases or other unique benefits for members is a good starting point.
By promoting this program on your website, you can encourage more potential leads to submit their information to you whether they are intrigued by potential long-term savings or just looking into what the program entails.
4. Giveaways
Similar to creating a loyalty program, hosting giveaways are a tried-and-true form of lead generation that manufacturers can take advantage of.
These giveaways don't have to be for expensive products or anything that will break your company's bank. One idea for manufacturers is to leverage LinkedIn Advertising and other social media platforms to offer tickets to a future trade show in exchange for entrants' contact information.
Using advanced targeting features, you can ensure that you don't overspend when promoting the giveaway and that it's highly relevant to whoever views it.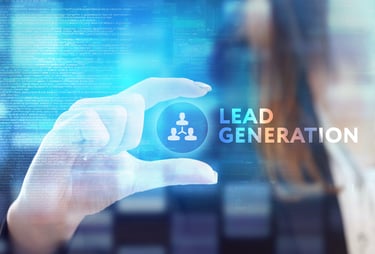 5. Interview an Expert
Professionals across all industries are always looking for ways to improve and hone their craft, making valuable, educational content from thought leaders perform very well.
Access experts in your industry or talented engineers within your company; consider sitting them down for an interview about a topic they are well-versed in and would resonate well with your audience.
Utilize this interview information to craft a well-written, informative article that you can include as content on your website. If the topic is chosen wisely and people within your industry are interested in learning more about it, this article could be a lead magnet for your manufacturing company and reflect your company as knowledgeable as well.
6. Language Translator
If your company does business globally, it is likely that some potential leads don't speak English. Enhancing your website's user experience is an effective tactic to influence more conversions.
Implementing a language translator on your site will improve the experience that non-English speaking users have when browsing your website and make them much more likely to consider contacting you for more information about your products or services.
Which Industrial Marketing Tactics are Right for You?
As manufacturers continue to become more advanced with their digital strategies, the opportunities for lead generation will continue to expand.
But which marketing and lead capture tactics should your manufacturing company use?
The tactics you choose to dive into should be selected based on your business and website's unique qualities. The most important aspect of a successful lead-generation strategy is that you leverage various tactics and frequently test to understand what performs best within your market.
Want to learn about more lead-generation tactics that you can consider? Take a look at these 8 lead capture ideas for manufacturers.
Manufacturer Marketing Resources
Video: Building your content calendar from A-Z