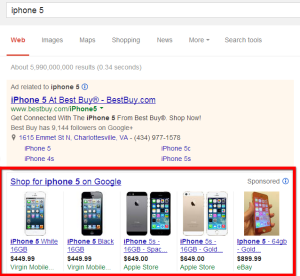 One of the most effective ways to advertise your products is through Google Product Listing Ads (PLAs). Since Google switched from a free comparison shopping model to the current paid model, PLAs has increased the effectiveness, visibility, and quality of advertised products every quarter.
According to The Search Monitor, PLAs now appear in more than 29 percent of all searches on Google. With this in mind, optimizing a PLA campaign is essential to garnishing ideal returns during the upcoming holiday shopping season.
Follow these three easy techniques to increase your product sales this holiday season.
1. Itemize each product within its own ad group
To do this, you need to create an ad group for each product in your feed. Within each ad group, assign a product target to each ad group (this is accessible within the Auto targets tab). Set each product target to ID and insert the value used for each ID in your merchant center feed. By separating your products by ad group, you will see which products are receiving clicks and impressions thus making it easier to make bid adjustments based upon product performance. This will also enable you to see which products are driving the majority of your sales.
2. Optimize your feed
Since you can't pick and choose which keyword searches make your products appear, it's important that the information in your feed accurately triggers your products to appear for the searches you want. This is where your Search Engine Optimization (SEO) content on your website will come in handy.
The most important fields for PLAs are Title, Description, Product Type, and Google Product Category. Optimize your product titles and descriptions for the keywords that you want or believe your products should appear for. The product type should be the taxonomy value of where the product is located on your website; ensure your website's taxonomy is SEO friendly along with the targeting of the search terms. Lastly, include a value for the Google product category. This may be tricky with Google's robust taxonomy - and still will not cover every product category possible. Provide an accurate product type value to ensure the product is classified correctly on Google Shopping and appears with other similar products on Google Shopping. These values will change over time, but linked is the latest Google Shopping taxonomy.
After optimizing each element stated above, check which search terms are appearing for your product by looking in the Search terms report (navigate to the Auto targets tab and select the See Search terms radio button). This will tell you if you have optimized your products around the correct terms.
3. Manage your offers and promotions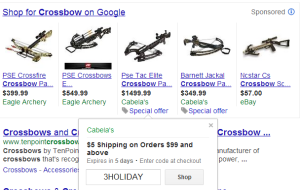 This is a simple practice that pays huge dividends. If running an email promotion offering 20 percent off a certain item or free shipping, include these promotions with the correct products in your account.
To add a new promotion, navigate to the Ads tab and select the +Ad radio button. This could be the difference in getting or not getting the click and thus the sale. For example, if you and your competitor both appear for the same search query and you both sell the same product at the same price, the last determining factor for a buyer could be the additional discount that you offer. According to shop.org, more than half of online consumers will have redeemed an online coupon by the end of the year.
As with any Google AdWords campaign, there are many techniques to use to optimize your campaign's performance. Leave a reply below and let us know how these techniques have worked for you or, if you would like additional advice.