COVID-19 has impacted every industry, from the perspective of the consumer and the company.
As behavior changes, credit unions are being forced to adjust their marketing spend to be both efficient and effective.
In the perfect world, you'd spend less on marketing and get better results. That is the reality for some. Here's how credit unions are spending less on marketing and yielding better results.
More targeted marketing efforts
You want to start by having very targeted marketing efforts.
As your advertising targeting becomes more specific, you're able to reach your ideal target audience and stop spending money marketing to people who are unlikely to convert.
Start by identifying your business and marketing objectives. Then you can drill down to what marketing efforts will do the most to support achieving those goals.
Now is the time to shift from traditional marketing to digital marketing. Our already highly digital society has become even more so due to the Coronavirus pandemic, so you can take advantage of this shift with your marketing.
Fix your marketing performance tracking problem
There are many pieces of the marketing puzzle that you have to consider from CRMs to LOSs.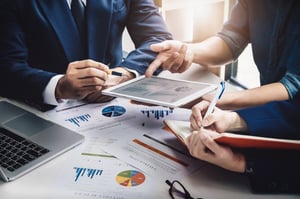 With so much to keep track of, many credit unions fail to track their marketing performance from beginning to end accurately. Implementing processes to track your marketing results will illuminate what's working and what's not working online.
Having better tracking and knowing how you're performing online allows you to make better decisions. It's impossible to make those crucial decisions without the necessary data highlighting your performance.
What you don't do is as important as what you choose to do
There's a quote by Greg McKeown on the concept of essentialism, which states, "Sometimes what you don't do is just as important as what you do."
This is especially true for credit union marketing.
Determining what you should be doing vs. what you shouldn't do starts by auditing your marketing focus. Are you putting your resources, money, and time into the products, services, locations, and the like that are not priorities or that are not performing well for you?
If so, you'll find it relatively easy to adjust your digital marketing efforts vs. your traditional marketing efforts since digital allows you to move faster.
Adjusting your efforts - even temporarily - can have a significant impact on your return on investment. Be intentional about your actions to reap the benefits you're seeking.
Use more efficient processes
Marketing managers are often spread thin as their to-do lists grow longer and longer. Being overwhelmed leads to inefficiencies and higher credit union marketing spend with a lower ROI.
The upfront cost of investing in support for your marketing managers can lead to lower costs and improved results in the long run. That's an investment that's well worth making.
What that looks like can vary depending on your credit union's unique goals and needs. It might mean hiring extra internal staff to support your marketing team. It might mean investing in new technology that improves efficiency. It could mean partnering with a digital marketing agency, where you'll gain access to a team of experts who can guide your marketing efforts in generating a better return on your marketing spend.
Reduce your credit union marketing spend & improve your ROI
Credit unions are investing more in digital marketing, but not every credit union's audience, objectives, or needs are created equal.
To get a better ROI on marketing efforts, you must make data-informed decisions from end to end.
Take targeted steps to track performance, reduce what's not working well, do more of what is, while improving the support in place for your marketing managers. In taking these steps, you set your credit union up to be in a position to spend less on marketing while achieving more.
For examples that make these recommendations more tangible, check out our case studies featuring real credit unions that have implemented these practices.