What are the winning tactics for funeral home marketing?
It starts with a strategy that includes a diverse portfolio.
That way if something isn't working, you funnel that budget into something that is.
In this article, we'll focus on content marketing, social media marketing and Google advertising, but there is no one-size-fits-all formula that works for all funeral home clients.
Here is the mix of proven tactics we've seen work for the funeral home business
Make sure your website is mobile responsive. That means when you bring it up on your phone you don't have to pinch to read the site and it adapts to your phone like the visual you see on this page.
You are not likely to rank well on Google if your site is not mobile responsive. And given that in many markets, your competition has yet to make this leap, it's one way to get a step ahead of the competition on Google search results.
Google rewards sites that are mobile responsive. And it's one way to illustrate good customer service and provide a positive customer experience.
Install Google Analytics. To figure out what's effective, you need statistics and baseline data. Google analytics is free but installing it takes some website expertise. So ask your website manager to install Google Analytics so you can see where your traffic is coming from and how much traffic you are getting. Even if you don't know how to read the analytics, having the data available for future needs will really come in handy if you hire someone for marketing down the road.
Google ads. For acute needs, Google ads are very successful lead generators. A death in the family is often an acute need since we can't always predict when that will happen. People rarely grab the yellow pages any more, they Google. Baby boomers are no exception! We've had amazing results for our funeral home clients with Google advertising.
Think about what that audience would be searching for and make sure the ad speaks to that, and then leads them to a page about what you have advertised. In other words, don't direct them to the home page. If you are advertising cremation packages, you don't want the ad to click through to your home page where they have to hunt for it. Send them right to the page you advertise.
Using Google ads all by itself, you can start to build a lot of momentum. In the chart below you'll see that online conversions really picked up after the first month of advertising. In January it was 5 leads but by December it was 32 phone calls to this funeral home business.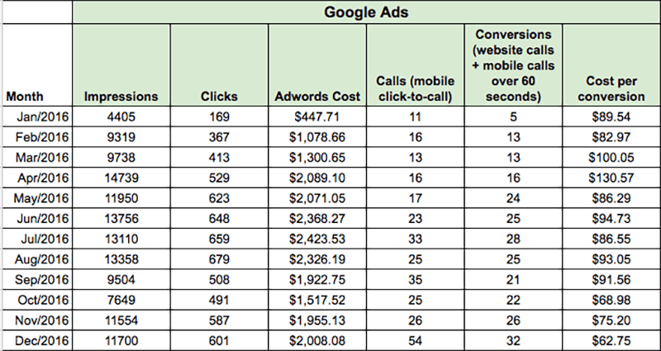 Content Marketing. What is content? It's all the stuff in the internet. It's all the articles, videos and pictures you see. A "blog" is one area of your site where you can put content such as helpful articles that your customers might be looking for. So start with a list of ideas for publishing articles on your blog to attract customers who are searching from Google.
When you answer questions your customers have on your website, customers searching locally from Google are more likely to find the answer to their question on your website. And therefore they are more likely to call you.
This is not the fastest way to get online leads but it's one of the most successful over time. Because it takes up to 6-9 months to start seeing robust results, we usually start with paid advertising to ramp up your ROI at the beginning while we create a content strategy and start creating content.
Content on your website builds traffic over time. One popular article can often attract thousands and get hundreds of leads over time. This increases your organic website traffic interested in funeral services. Translation: Organic traffic means you are not paying for that lead. The trick is to make a list of questions you get most often and write articles (blog posts) answering those questions.

Facebook ads: These ads can be specifically targeted to baby boomers. This is also a good way to market your pre-planning packages and target people who like to be organized. These should be packages that are not depressing but fun. Call it the Bon Voyage Pre-Planning package for example. You could actually use a boat for your visual.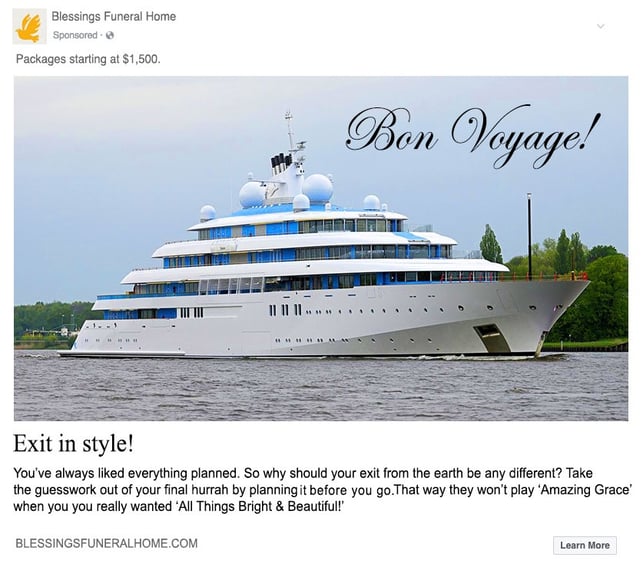 It's important to try different things, track the results and adjust accordingly. To be successful, focus your energy on getting one of these digital strategies right at a time as part of your funeral home marketing efforts.