Using Google Places to Drive Awareness and Website Traffic
Google recently made some major-league changes to their search engine results listings, particularly for those doing localized searches. In their usual manner, Google understood that a significant amount of online searches are intended to find local products and services, and they reacted accordingly by enhancing local search results.
What's Considered "Local"
"Local" in this context describes businesses that typically market/sell their products and services to the local market. Contractors like plumbers, HVAC, home improvement and the like are considered "local". Additionally, law firms, CPA's and financial advisors who primarily want to target their local markets are included in this "local" definition. If your firm falls into this "local" category, the changes Google has made will have a significant impact on your search engine visibility.
The New Google Look
Here's a before and after look at how search results are displayed for a localized search.
The images below show how the search results page appeared prior to the change when a search was done to find a local plumber. The second image shows how results appear today. A quick summary of changes are as follows:
The map image moved to the right side of the page and remains at the top of the page even after scrolling.
The 7 listings next to the map have been expanded with text and pictures, and now dominate most of the first page. In fact, these local listings now push organic listings further down the page.
Paid listings remain at the top and along the right side, but as the map moves while scrolling down the page, some of the lower paid listings are hidden behind the map.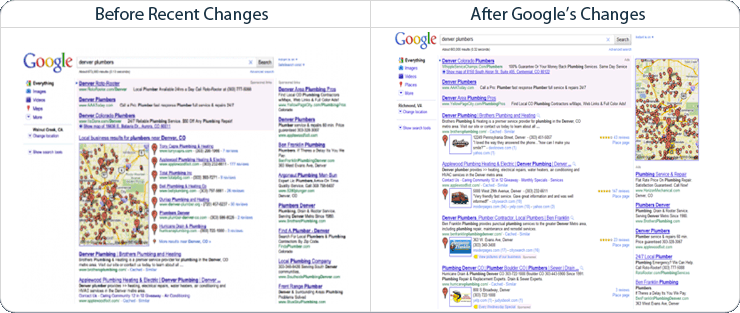 Where Does This Information Come From
These expanded listings originate in your Google Places account. If you are not sure about Google Places, you fit the previous description of "local" and search engine visibility is important to you, you should begin to learn more about Google Places and how to optimize it for your target market. To learn more about Google Places, click here.
What Do Google's Changes Mean to You
Google has apparently decided that more robust information about local businesses is important to the person doing a search online - and they are probably right. To gain that important first page "real estate" on Google, it goes beyond traditional search engine optimization. As always, content is critical so Google is looking for content that makes you more meaningful than your competitor. Things like articles, videos, podcasts and the like are critical; and you can upload all those into your Places account. In essence, Google Places is where you put your best information to educate your target market about what you do, how you do it and your competitive advantages.
But there's one more really critical element - Customer Reviews. Reviews from your customers are proving to be critical to Google Places optimization efforts. And that makes sense. If you are looking for a local company, really any company, what customers say about you is meaningful. So Google has put a great deal of importance on customer reviews.
In total, achieving high natural/organic search engine visibility will require traditional search engine optimization efforts as well as a robust Google Places account. Consider them one in the same. If you are a "local" business, search engine optimization (SEO) must include Google Places.
What You Should Do
If you fit the "local" personality and search engine visibility is important to your success, here are the steps to get going:
Create your Google Places account with all your information including keywords that your target market uses to find someone like you.
Begin uploading content important to your target market. Don't rely on the blah-blah-blah stuff. Upload some good articles, podcasts, videos and other resources that will say to Google and your target market that you are good at what you do.
Start getting customers to review you and get their reviews into your Places account.
Continue with your traditional search engine optimization efforts - getting good content onto your website and building popularity through link building efforts.