1. Search engines and social media sites will boom and begin a "love affair" with each other.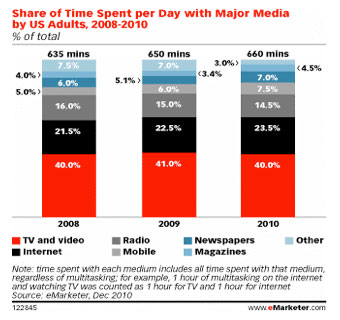 Search engines will remain the "king" of online marketing and will continue to be the place to find information, products, services and people. The social media sites are where more and more people are going to "check out" someone or some business before engagement occurs. It's a validation process and a place to go to get recommendations. Angie's List is a relatively popular social media site that rates a variety of service providers. Rating websites are popping up every day giving consumers significant power to evaluate products and services. If you think Online Reputation Management is important today - it will be 10 times more important in 2012.
Also, the search engines are beginning to include social media authority and properties in their algorithms that determine how websites rank organically. Having an active presence in Facebook, on Twitter, in YouTube and LinkedIn are all tactics to what is referred to as Social Media Optimization - the use of social media to create brand awareness in the traditional search engines. Like never before, this will factor in heavily to how websites get ranked.
2. Valuable content will "separate the men from the boys".
If you are in the B2C space "valuable content" can mean helpful consumer information, video tutorials, product rating systems, ratings from independent organizations and the like. Our studies and experience with e-commerce indicate that good, objective information that describes a product or service is the single most important element to achieving online sales. Occasionally survey your customers about what they find valuable and give it to them. You'll create a competitive advantage.
In the B2B space you can gain a competitive advantage by being a "thought leader" and/or consistently providing objective and evaluative information to your target markets. Consistent blogging about important industry topics, publishing articles and whitepapers that educate the marketplace and posting valuable (not dribble) content on the social sites are all ways to stand out from the rest and show your target market that you know what you are doing.
3. Smart-Phone & Mobile Technologies Explode - Are you "Going Mobile"?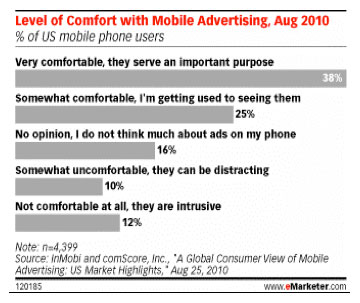 The experts predict that sometime in mid-2013 we will access the internet more often from a mobile device than from our desktop computers. Further supporting the smartphone trend is one of the latest gadgets - the iPad and its equivalent on the PC side of the world. Does this mean we all need one of those .mobi sites? No - but it does mean your website should display well and be easy to navigate on a mobile device.
Just like we saw in the early days of the internet when more and more people got comfortable buying things online and doing other monetary transactions online, mobile marketing and ecommerce will expand sharply. A recent survey found that more than 60% of consumers were at least somewhat comfortable about mobile advertising. Many predict that mobile ecommerce will hit nearly $200 billion by 2015.
Finally, as mobile devices become more sophisticated and unique applications developed for the devices, we will see organizations utilize these technologies to market their businesses and mobilize their field workforces. This will likely drive more technology applications to the "cloud".
4. One of Google's "Children" - Google Places - becomes an Adult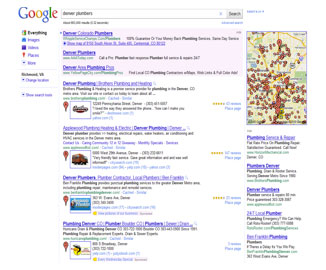 Just recently we saw Google make major changes to how they show local search results. Local results now consume a lot more "real estate" on the Google SERP. The map moved over to the right side of the page and "floats" as one scrolls the page. For businesses that primarily provide their services to their local markets, an integrated optimization plan including natural listings AND local results will become increasingly important to generating website traffic.
If showing "above the fold" on the 1st page of Google is important to you, then optimization of Google Places is as important as traditional organic search engine optimization efforts.
5. What You Can't Measure, You Can't Manage - Web Analytics becomes Critical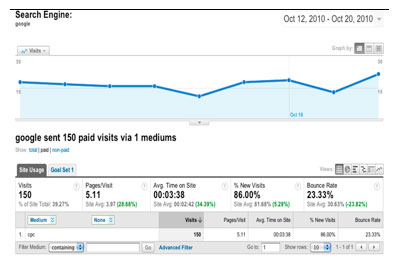 In 2011 ad spending online will surpass print advertising, including newspapers. The "silver lining" here is with ad investments shifting toward online, the ability to measure marketing effectiveness has never been easier. Consequently, the world of web analytics, in which large companies have invested significantly for quite some time, now becomes increasingly important to small and mid-sized businesses and marketers striving to measure their return on marketing investments. This will be compounded by the ability to use web analytics to measure some offline marketing activities as well.
While the various web analytics tools are relatively easy to install and use, having someone who can customize the configurations, interpret/analyze the data and recommend action will become an invaluable resource to improving sales and the return from offline and online marketing investments.
What Does This All Mean to Marketing?... to Me?
Our world is going digital at a rapid pace. It's more than the internet now and it is more than just marketing and communicating. It's mobile...it's social...it's local...it's managing your reputation worldwide...and, it's using technologies to generate a better marketing ROI and reduce costs. A lot of this makes some people feel uncomfortable and/or out-of-touch. So, subscribe to blogs and other news feeds about emerging digital technologies. Observe others' behaviors and decide if embracing some of these trends can give you a competitive advantage. Consult with someone who specializes in these areas. It is here to stay and will have an ever increasing impact on our personal and work lives. Don't be left behind and don't lose that competitive edge - after all, 2012 will be here before we know it with all kinds of other new things.