SALES APTITUDE TEST
An objective analysis
to identify an individual's sales aptitude,
and develop them as a professional salesperson.
Do Your Salespeople Have a Natural Aptitude to Succeed?
Jim Collins' book Good to Great talks about getting the right people on the bus. Do you have the right salespeople on your team? Experts believe that 50% of sales success is based on natural aptitude…not something that can be taught.
WebStrategies uses the CPQ Sales Assessment tool to help you identify who has this natural talent and how to overcome weaknesses in critical areas.
Get a Free Sample Sales Aptitude Assessment & see the power of assessments for yourself.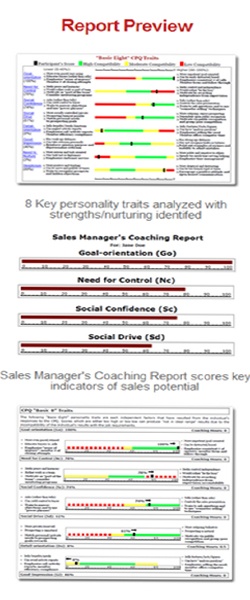 Included in this sample report:
Compatibility Hiring Chart – Visualizes your candidate's compatibility for a position, based on eight core personality traits
Selling Style Profile – Capitalize on your candidates' strengths and improve weaker areas
Buying Style Profile – Understanding the buyer's personality will increase your sales success and create lifetime customer relationships
Sales Manager's Coaching Report – Accurate advice to best guide and motivate each employee delivered in practical, narrative fashion