Digital Marketing Summary Report: 2016
For 2017 & Beyond Planning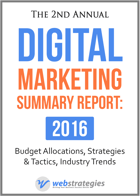 What's in this report?

The latest data on how people are consuming media and how ad budgets are allocated across media channels
What firms on spending on marketing, how they are allocating funds across channels, and how they plan to spend in the future.
How effective are the various digital marketing channels and some associated statistics
Recommendations and executive summaries
Who is it for?
This report is for any business owner or marketing professional looking to stay ahead of the marketing curve.
How much is it?
Free! Just complete the form on this page to get the report.
Download The 2016 Digital Marketing eBook!