After enjoying fabulous educational sessions, networking, nightlife and meeting hundreds of friendly security alarm industry associates at the ESX Conference in Nashville in June 2017, WebStrategies officially joined the Electronic Security Association (ESA) last month.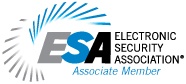 Since we currently provide digital marketing services for several security alarm company clients, and continue to add more, we are on a mission to learn even more about the industry so we can help our clients grow their businesses.
The ESA is the nation's premier trade association representing the electronic security and life safety industry. With nearly 2,000 member companies, the ESA provides education, advocacy, educational programs, strategic partnerships and several events that bring members and industry vendors together.
One of our goals is to educate the security industry on digital marketing techniques that generate residential and commercial sales leads, including advanced targeting strategies to reach the right target markets at a better ROI.
To that end, we held a presentation at the 2017 ESX conference titled ROI Focused Digital Marketing for Security Providers, and are scheduled to present at next year's ESX conference in Nashville in June 2018.
Learn more about our approach to Security Company Marketing.