What happens when an established professional services firm with no previous digital marketing plan shifts their focus to generating leads online? They completely turn their business development model on its head.
Targeted Marketing for a Niche Business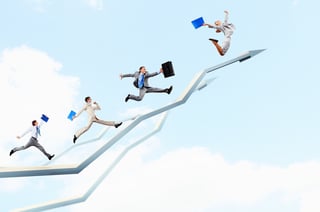 When Edge Training Systems, a leading producer of leadership and employee development solutions, began working with us in 2015, they relied on an internal sales staff to work an existing customer database and were not generating leads online.
Because they serve a niche market, WebStrategies developed a strategy to hyper-target potential buyers. By implementing a combination of content marketing, marketing automation, digital advertising and SEO, we've been able to generate a steady flow of online leads, most importantly with a significant portion being quality leads.
Digital Marketing Results
Just one and a half years after launching a blog for our client, that blog now receives 3,000 unique organic visitors monthly thanks to consistent, quality blogging. Year over year, WebStrategies has increased Edge's organic website traffic by 729%.
Edge Training Systems owner Paul O'Keefe says, "WebStrategies has tremendous capabilities in all things digital marketing. Our traffic has gone through the roof since we began and they've figured out how to generate qualified leads in a very niche industry. I recommend them all the time."
See the full marketing case study here.
---
Is your marketing budget set for success? Download our free Digital Marketing Budget Calculator.