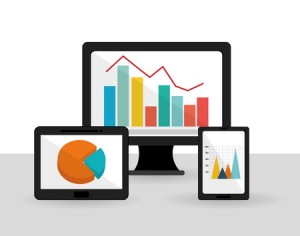 Below is a list of interesting facts and statistics I've collected from around the web. These provide an interesting glimpse as to where the Internet is now and where it is headed.
1. Google's total search engine market share is around 65%, while Google's MOBILE search market share is a whopping 95%.
Google dominates mobile search because most people own either an Apple or Android (Google) mobile device - both of which default to Google search. While there exists an option to switch search preferences, users rarely tinker with default settings.
2. Internet usage on tablets and smartphones is expected to overtake desktop by 2014.
Take a moment to let that sink in. If you're like most business owners, you have invested heavily in your desktop site throughout the years. Are you giving the same attention to your mobile presence? If not, now is the time to start.
3. Transaction rate on emails is 160% higher between dinner time and bed time than it is during the workday.
Knowing the tendencies and nuances of your market can make or break a campaign. How do your conversion rates differ by time of day? Do you see more mobile visits in the evening when users are at home? There are several ways to capitalize on these types of behaviors. How are you taking advantage?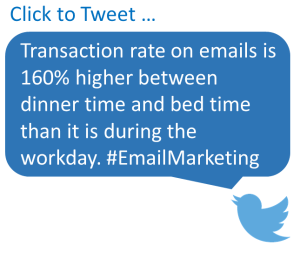 4. Smartphone penetration in the major world markets is expected to DOUBLE by 2015.
And you thought smartphone usage was already prevalent. This demonstrates both the incredible speed of mobile penetration as well as the tremendous growth potential. How well positioned are you for the mobile revolution? (marketingcharts.com, 2013)
5. The number of teens who consider Facebook their preferred social network has fallen from just over 30 percent to just over 20 percent while interest in Twitter and Instagram has increased.
Speak to a young millennial for 10 minutes about how they use the Internet. The apps and social networks they use will surprise you (chances are you won't recognize half of them). While you may market your products and services to older demographics, it's important to see what's around the corner. After all, the teenagers of 2013 never existed in a world WITHOUT the modern Internet.
6. 40% of US smartphone owners compare prices on their mobile device while in-store, shopping for an item.
Why should customers be limited to the information pushed in front of them in a store when they have access to the world's knowledge in their pocket? What incentive can you provide users to convince them to buy from you? Is your store only good for "test driving" a product before it's purchased online or can you offer something the online world cannot?
(Hubspot, 2011)
7. 70% of respondents said they use Pinterest to get inspiration on what to buy, compared to only 17% for Facebook.
Convinced Facebook is your marketing silver bullet? Not so fast. While Facebook may have the most active users, it isn't necessarily your best marketing opportunity. Consider why people use a particular social network in the first place before investing in your social strategy.
8. There are 34,000 searches done on Google every second, 15% of which have never been searched before.
While you're still obsessed over ranking a few keywords at the top of the search results, consider how many unique long-tail phrases are potentially searched in your niche every day.
(searchengineland.com, 2010; Google.com)
9. 86% of consumers use the Internet to find a local business.
Most local searches go something like this: Step 1, do a search. Step 2, compare reviews of the businesses that showed up from your search. If you are a local business, your visibility and online sentiment are two very important components to a successful online strategy. How do you stack up?
(Nielsen/WebVisible 2011)
10. Google+ is considered the second largest social network ahead of both Youtube AND Twitter.
Google continues to invest significantly in Google+ and has incentivized businesses for getting on board. Besides the social networking benefits, having an active Google+ account can also increase your rankings. Are you ignoring Google+ or taking advantage of an easy opportunity?
And now a couple more just for fun...
11. It would take 25 days to read through all the Terms and Service agreements you agree to in a given year.
That's the same amount of time you spend eating each year.
12. The weight of all the electrons in motion that make up the Internet at any one moment is equivalent to 50 grams, or about the weight of one strawberry.
So theoretically, your Kindle gets heavier every time you download a book. (youtube.com/user/Vsauce, 2011)
For some statistics you can use to form your 2016 Marketing Plan, download our eBook the 2015 Digital Marketing Summary Report.